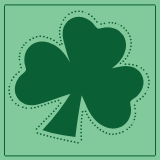 In honor of St. Patrick's Day (March 17th), here are a few ideas for romances to read that are set in Ireland!
Nora Roberts's Gallaghers of Ardmore trilogy is probably one of my favorite series set in Ireland. Sure, she has the "Born in" trilogy as well, but there's just something about the Gallaghers that I love.
The titles are:
Jewels of the Sun
Tears of the Moon
Heart of the Sea
Not a Nora fan? JoAnn Ross also has a few books set in Ireland. My favorite is
Fair Haven
.
If you're in an historical mood, Tracy Anne Warren's
The Wife Trap
is set in Ireland as well and has some terrific descriptions of the Irish countryside. Plus I love the secret Earl in disguise trope, and this one is a lot of fun.
If you want a touch more of the paranormal, I suggest
The Magic Knot
by Helen Scott Taylor.
Here's wishing you a terrific St. Patrick's Day.
May you always have walls for the winds,
A roof for the rain, tea beside the fire,
Laughter to cheer you, those you love near you,
And all your heart might desire.