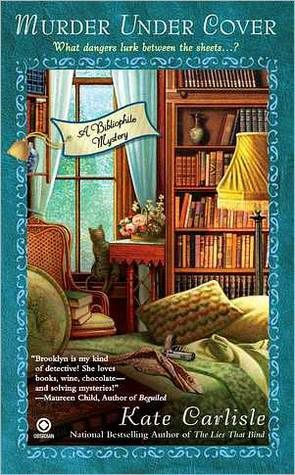 Format: Mass Market
Pub Date: May 3, 2011
Length: 304 pages
Publisher: Obsidian
FTC: Review copy provided by Jane Rotrosen Agency
I love cozy mysteries, but I am finicky about the whole amateur sleuth aspect of them. Sure, part of the appeal of the genre is watching how ordinary people deal with death and mysteries, but too often they veer into what's known as TSTL (too stupid to live), endangering themselves and everyone around them. Thankfully, this isn't one of those books.
Brooklyn Wainwright is a rare book restorer and binder. When her friend brings home a rare copy of the Kama Sutra to clean, restore and appraise, she's ecstatic. Until people start dying around her. Again. Thankfully, she has her lover, former spy and security expert Derek, to help keep her safe.
Brooklyn is smart enough to let Derek, the security expert, deal with most of the dangerous stuff. She calls the cops when she needs to instead of pretending she can handle everything herself. In other words, she does everything those TSTL heroines never do: acknowledges where her expertise is and isn't and lets the professionals do their jobs.
The author does an excellent job portraying the various people who live in and around San Francisco. All of the characters are vibrant and complex, but with their own flair, motivations and personalities. There are commune members, artists, a gay couple or two, a British ex-spy and more. But what makes this special is that there isn't any special attention given to how motley the group of friends, family and acquaintances really is.
There's a nice romantic element here that readers of romances or romantic suspense will appreciate. The heat level is quite tame, but I enjoyed the banter and insecurities between Brooklyn and Derek.
This is definitely not a mystery for those who love to be stumped, though. I figured out the plot by page 100 or so. With the who and why to come just a few chapters later.
My Grade: B+
The Blurb:
When she receives an exquisite copy of the Kama Sutra from her best friend, Robin, to appraise and restore, Brooklyn Wainwright anticipates both recreating a beautiful book and spicing up her love life. But then Robin's apartment is ransacked, and the great guy she recently met is murdered in her bed. Now Robin is the #1 suspect. Obviously, exploring the Kama Sutra's bliss will have to wait until after Brooklyn finds the killer...